VISITOR INFORMATION
---
[ ETH | Zurich | Switzerland | Dictionary ]
---
Swiss Federal Institute of Technology Zurich (ETH)
The Swiss Federal Institute of Technology Zurich, or - to give the university its German acronym - the ETH, was founded by the Swiss government in 1854 as a polytechnic and opened its doors in Zurich in 1855. Until 1969 it was the only national university in Switzerland. In its core areas of engineering, natural sciences, architecture, and mathematics it is one of the leading academic research institutions world wide.

The ETH itself comprises 17 departments, 330 professors and about 840 lecturers who fulfill teaching obligations and conduct research. A staff of more than 7'500 - with a 25% proportion of women - work in teaching, research and administration. Current statistics of the ETH show 11'700 registered students. Each year about 1'250 receive an ETH diploma and a further 530 complete a doctoral thesis. Current annual expenditure has reached 1 billion Swiss francs.

Visit the ETH Homepage for more information.
---
Zurich
Zurich is one of the most beautiful cities in Europe, and it is well worth your time to spend a day or two taking in its pleasures.

The city of Zurich was established as a Roman customs post (called "Turicum") in 15 B.C. It is situated some 400 meters (1,340 ft) above sea level at the northern end of the 27 km (17 miles) long Lake of Zurich. Its well-preserved Old Town is to be found on both banks of the River Limmat, which flows out of the lake in a northerly direction. With a population of some 336,000 inhabitants, Zurich is the largest city in Switzerland. It is surprisingly compact, though, with a wealth of old churches, fountains, and cobbled streets with buildings, some of them more than 700 years old, housing charming galleries and small shops.
Zurich's reputation as a shopping paradise and an art center which is home to highly renowned auction houses has done much to make the city known throughout the world. The main shopping area is concentrated within one square kilometer in the heart of the city, which means it is easily covered on foot. Strolling down the famous Bahnhofstrasse - one of the most beautiful shopping streets in Europe - you will find elegant boutiques, department stores, specialist shops, banks, and cafés which tempt you to linger and relax for a while.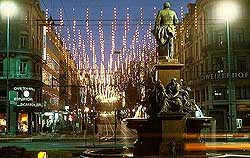 The pedestrian streets of the Old Town contain most of the major sights, including winding alleyways, 16th and 17th-century houses, guildhalls and churches. The 13th-century tower of St Peter's Church has the largest clock face in Europe, while the Fraumünster Church nearby is noted for the distinctive stained-glass windows in the choir, which were created by Marc Chagall in 1970. The cities most famous landmark is the Grossmünster with its unique dual towers. Believed to be of Carolingian origin, its oldest parts date back to the late 11th century.
The "Kunsthaus" (the Zurich Art Gallery) is Zurich's top address for art. It has paintings, sculptures and graphic art, mostly from the 19th & 20th centuries. The Museum of Fine Arts has a large permanent collection ranging from 15th-century religious art to the `modern' art of Monet, Manet and Man Ray. The Swiss National Museum offers a permanent collect on Swiss national history and is housed north of the city center just next to the Main Railway Station (which dates back to 1871). The Arboretum and Quayside Park offer amply laid-out waterfront paths along the the shores of Lake Zurich which pass picnic, sunbathing and swimming spots.
Some of Zurich's sights can also be visited in a virtual tour which is provided here.
Zurich is also an ideal departure point for excursions all over Switzerland. You can easily travel to the Rhine Waterfalls, to Lucerne, or to the Säntis or Rigi mountains and back to Zurich in just half a day. Whole-day trips by train or coach will take you to the Ticino, Graubünden, up the Titlis mountain or to the never-melting snow and ice on the Jungfraujoch, or even across the border to Austria, Italy or Germany.[text courtesy of Lonely Planet and Zurich Tourism, pictures courtesy of Zuerich.ch]
Getting Around in Zurich: Even though Zurich is the largest city in Switzerland it is rather small compared to international standards. This means you do not need to rent a car. In addition, there is an excellent public transportation system and you can get anywhere in Zurich within 10-20 minutes by tram and bus. A ticket for the city ist valid for 24 hours and is 7.20 SFr.
Climate of Zurich: Zurich has a temperate climate, but frequently finds itself in the path of warm, moisture-laden winds blowing from the Atlantic ocean. This results in a milder climate than its northern latitude of 47° might otherwise suggest. Average daytime temperature is 14 degrees Celsius (57 degrees Fahrenheit).
Check out the Zurich weather forecast for the next few days.
Useful links:
---
Switzerland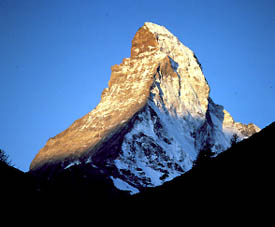 What do you think of when you think of Switzerland? Is it the dramatic landscapes and quaint country settings? Or is it the unique French, German and Italian cultural influences? Maybe it's the historic castles and heritage? Whatever it is, Switzerland has something special for you whether your idea of the perfect vacation is hiking in a world of breathtaking vistas or pampering yourself in the lap of luxury. That's because you can experience gourmet dining just as easily as you can explore scenic mountain trails with a picnic in your backpack. Switzerland has it all and real close together so you spend more time hiking, bicycling, golfing, playing tennis, swimming, shopping, exploring wonderful museums, discovering fabulous architecture and beautiful scenery than traveling from place to place. You see, Switzerland, while one country, is a collection of wonderful lands waiting for you to discover and enjoy. [text and picture courtesy of Switzerland Tourism]

Currency: 1 Swiss Franc (CHF) is about 0.59 US Dollars, or 0.64 Euro (as of August 2000). For current exchange rates, see the Universal Currency Converter or Oanda.com, which offer detailed conversion tables, for example for US Dollar, Euro, or Japanese Yen. Coins in circulation are 5, 10, 20 and 50 Cents (1 Franc = 100 Cents), as well as 1, 2 and 5 Francs. Swiss bank notes come as 10, 20, 50, 100, 200 and 1000 Francs bills.

Credit Cards: The most popular credit cards are Visa, MasterCard and American Express. Many banks in Switzerland have equipped their ATM machines with the CIRRUS® or MAESTRO® system, which allows you to use your American or Canadian bank card. Many Swiss banks also offer ATM machines for cash advances with your credit card. It is recommended to have a small amount of cash on hand upon arrival in Switzerland for immediate expenses, i.e. taxies, public transportation etc. (At the airport and the main railway station you find of course ATM machines and exchange offices.)

Passport/Visa: If your stay is shorter than three months you only need to bring your valid passport with you, a visa is not required. This applies to citizens of the following countries: countries of the American Continent, Europe, Japan, Australia and New Zealand. Exceptions may apply. For more detailed information on visas, please contact the Swiss Consulate General located nearest you (for the US, see the Embassy of Switzerland in the United States; in Japan, see the Visa page at Switzerland Tourism, Japan. Online information is also available from the Swiss Embassy in France, Great Britain and Korea.)

Tipping: Tips are automatically included in all hotel and restaurant bills and in most taxi fares. For special services like luggage handling, it is customary to tip CHF 2 per bag.

Further information:
---
A Short German/English Dictionary
If you can't find below what you are looking for use LEO.
| German | English |
| --- | --- |
| Abfahrt | Departure |
| Ankunft | Arrival |
| Billett Automat | ticket vending machine |
| Datum | Date |
| Fahrplan | Time-table |
| Flughafen | Airport |
| Haltestelle | Tram or bus stop |
| Hauptbahnhof | Main station |
| Morgen | Tomorrow |
| Nach | To |
| Platz | Place, Square |
| Reisetag | travel day |
| Richtung | Direction |
| S-Bahn | Name of trains in metropolitan area |
| Stadtplan | City map |
| Strasse | Street |
| Ticket Automat | ticket vending machine |
| Von | From |
| Zeit | Time |