Maui is located in the mid-Pacific. Maui has three airports; the largest one is Kahului Airport (OGG) in central Maui, which has flights to and from many American airports.
The Honolulu International Airport (HNL) located on the Oahu island also has many flights into Kahului Airport (OGG). For anyone travelling to Hawaii via HNL, Maui can also be reached from Oahu through ferry ($39 one way).
Agricultural Inspection in Hawaii's Airports
All baggage bound from Hawaii to the U. S. Mainland is subject to pre-flight inspection by the U. S. Department of Agriculture. The purpose of the agricultural inspection is to prevent the spread of fruit flies and other hazardous plant insects and diseases.
Luggage that you will be checking must pass agricultural inspection before you check in with your airline. U.S. Agricultural Inspection Station for check-in baggage are located in front of the airline check-in counters. Place the luggage that you will be checking-in on the conveyor belt for inspection. Declare all agricultural items to the agricultural inspection officers. After inspection, the officers will place a sticker on your luggage to indicate that your luggage has been checked and cleared. You may then proceed to check in at the airline counter.
Your carry-on baggage will be checked after the TSA security check points and before you proceed to your gate. You must place all your carry-on items onto the conveyor belt U.S. Agricultural Inspection Station. After your hand luggage clears inspection, you may then take it onto the gate.
Be prepared to open and close your baggage and parcels for x-ray machine inspection.
For general information call the U. S. Department of Agriculture at (808) 834-3220 or (808) 861-8490. For questions on foreign flights call (808) 834-3240.
Additional information, including lists of what is and isn't allowed, can be found at the USDA APHIS Hawaiian Agricultural Products page.
Local Transportation to the Grand Wailea
Shuttle Service Option
Shuttle Service Driven with Aloha by Roberts Hawaii offers one way and roundtrip services between Kahului Airport and Maui's lodging properties throughout Honokawai, Ka'anapali, Kahana, Kahului, Kihei, Lahaina, Makena, Napili and Wailea.
The Maui Airport Shuttle Service counter is located in the Baggage Claim area. Counter Hours: 5:30 am until the last flight
No reservations are needed.
Contact Roberts Hawaii for specific rates to your destination. There is charge for the first two bags & one personal carry on. Additional luggage (over the two per person limit) is ~ $5 per item
If you have any questions or need any special accommodations due to disability, Roberts Hawaii will be happy to assist you.
For more information, visit: https://www.robertshawaii.com/airport-shuttle/maui/
Public Transit Option
The County of Maui operates a public transit system that provides limited service to the airport. The Maui Bus stops at marked locations fronting the terminal. The routes are operated daily. All vehicles are ADA accessible.
Airport Routes
Route 40 (Upcountry Islander) -- Operates every 90 minutes from 7:15 a.m. to 10:15 p.m.
Route 35 (Haiku Islander) -- Operates every 90 minutes from 6:45 a.m. to 9:45 p.m.
Fare
$2.00 per ride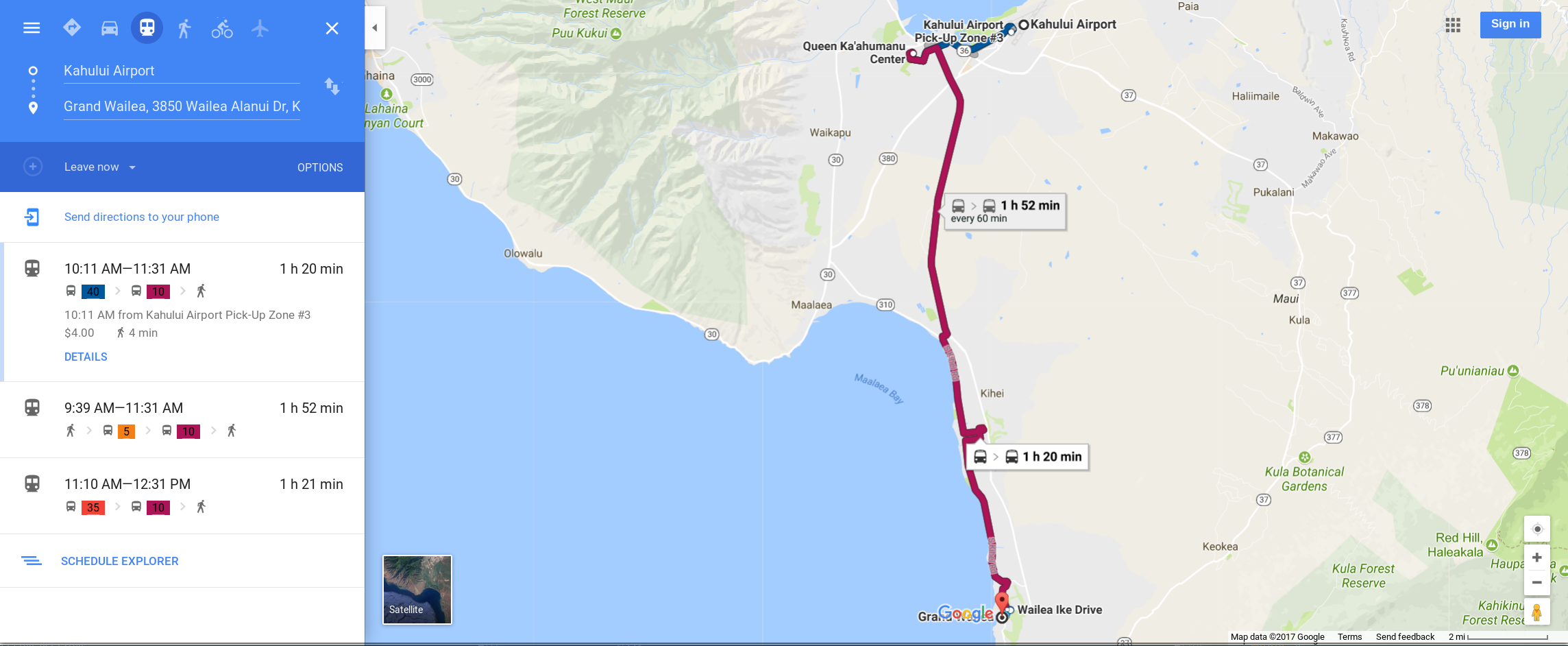 Luggage Policy
One (1) Medium-sized suitcase, duffle bag, or carry-on bag allowed, no larger than 22"H x 14"W x 9"L and must fit and be placed under the passenger's seat or on the passenger's lap so that they do not protrude to another seat.
For information about these and other routes contact the Maui Bus at (808) 871-4838 or visit http://www.co.maui.hi.us/609/Maui-Bus-Public-Transit-System.
Taxi Cab Option
Airport taxis are located fronting the baggage claim area. Kahului Airport Taxi Service is managed by Robert's Tours & Transportation, Inc.
Estimated fares to Wailea is ~$57. It is not guaranteed and subject to change at anytime. Please consult your taxi dispatcher or driver on arrival for current fares and information. The Metered Rate is $3.00 per mile.
For more information contact: (808) 877-0907
Rental Car Option
Eight rental car companies are located on the airport. The car rental building is located on the walkway just past the end of the Baggage Claim area. Car rental shuttles stop behind the car rental building.
On Airport Companies
Alamo Rent-A-Car
Airport: (808) 872-1470
Toll Free: (800) 327-9633
Avis Rent-A-Car
Airport: (808) 871-7576
Toll Free: (800) 321-3712
Budget Rent-A-Car
Airport: (808) 871-8811, ext 242
Toll Free: (800) 527-7000
Dollar Rent-A-Car*
Airport: (808) 877-2732
Toll Free: (800) 800-4000
Enterprise Rent-A-Car*
Airport: (808) 871-1511
Toll Free: (800) 736-8222
Hertz Rent-A-Car
Airport: (808) 893-5200
Toll Free: (800) 654-3131
National Rent-A-Car
Airport: (808) 871-8852
Toll Free: (888) 826-6890
Thrifty Rent-A-Car*
Airport: (808) 877-2732
Toll Free: (800) 847-4389